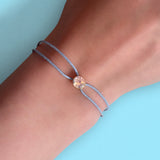 Rainbow moonstone Glowing Charm
A dreamy, bezel-set rainbow moonstone adorns a simple cord bracelet. 
Dimensions: 7 mm
Rainbow moonstone: 1.1 carat
Yellow gold
049451 | 049452
Click here to see our gold chains.
TO KNOW MORE ABOUT IT
Throughout the centuries jewellery has been seen a treasure, this has allowed it to stand the test of time.
YOUR JEWELLERY IS A TREASURE
Here are a few tips that will help you to enjoy your jewellery for years to come and keep it looking marvelous.
These tips apply to Marie-Hélène de Taillac jewellery, though we are sure that your other jewellery will appreciate them too.
BEAUTY IS FRAGILE
Jewellery is strong but precious and should be treated as such. It can take days, sometimes months, to make a single piece. Your jewellery is made of precious metal and gems that can scratch, warp, break, and wear if not treated with care.
Like a nice bag or a pair of designer shoes, it won't stay new forever. But treated with care, it will remain beautiful. It will sometimes even become more beautiful than when it was purchased.
Over time your jewellery will acquire a beautiful patina that is unique to you. If treated with care, you can enjoy wearing your jewellery and will be able to pass it on.
TREAT THEM GENTLY
Our first tip is to handle your jewellery with care.
This applies to all types of jewellery, whether it is earrings, rings or necklaces.
When sliding your ring on and off your finger, avoid holding it by the stone. Over time, this can exert unnecessary stress on the setting. Hold your ring by the band and slide it onto your finger upside down to avoid forcing the stone over the knuckle.
BEWARE OF THE BATHROOM
Avoid adorning yourself and disrobing in the bathroom. Hard surfaces can be fatal for your jewellery if dropped. As to the wash basin and shower, they have been responsible for many unfortunate disappearances.
BE AWARE OF THE RISKS
Enjoy your jewellery everyday but be mindful that it may prefer to stay at home for certain activities.
Moving an antique table or cabinet while wearing your ring will likely deform it. The damage may be repairable, or the stone could break, which is sadly irreparable. Heavy loads should be avoided whilst wearing your jewellery.
Your jewellery is not fond of sports on account of: force, rubbing, pressure, and the acidity of perspiration.
Avoid intense heat, such as the oven. It is also best to avoid extreme temperature fluctuations; for example try not to bronze yourself for hours under the sun, then dive into cool water whilst wearing your jewellery.
Your rings and bracelets do not enjoy participating in household chores. Removing them will avoid any form of aggression, whether from pressure, scrubbing or products.
BEWARE OF CHEMICALS 
Chemicals can tarnish gold and change the color of some stones irreparably: perfume, chlorine from the swimming pool, household products, solvents, soaps, hairspray... The list is long. Hydroalcoholic gel is safe for gold but not for some stones, even moisturizing creams are not recommended.
Putting on your jewellery should be the final touch to your beauty routine. It is after having dressed from head to toe, coiffed and perfumed that it is appropriate to adorn oneself.
Many accidents can be avoided. How many sweaters or tights have been damaged by the prongs of a ring? How many rings have been weakened by catching on clothes?
BEWARE OF SMALL SHOCKS
Another "classic" way to damage your ring and cause the stones to fall out is to clap enthusiastically at a show. You've already noticed how red and hot the palm of your hand can get when you do this. Each time you clap, it will inflict a micro-shock to the setting. This micro-shock will be amplified if you wear rings on both hands. You risk not only hammering the ring but also losing one or more stones, during the concert or in the near future.
You have two options: clap like a queen, very delicately, on the palm of your hand, or wear only earrings, necklaces and bracelets when you attend a show.
Choose the jewellery you wear according to your activities.
Avoid sleeping with your jewellery. Doing so may exert unnecessary twisting and pressure. You can deform them, and even worse, break them.
Also, nothing damages your earlobe more than wearing earrings while you sleep.
PROTECT THEM
When you are not wearing jewellery, put it back in its case or pouch. We recommend keeping each piece separate to avoid scratching and damaging it.
Finally, a simple precaution: if you have the slightest doubt about your jewel, a tricky clasp, a stone that wiggles in its setting, a piece that opens too easily or that falls off by itself, resist the urge of wearing it. Visit us, and we will be pleased to have a look.  
Once a year, remember to drop off your jewellery to be checked and cleaned. We will do it with pleasure and free of charge.